Timber Trails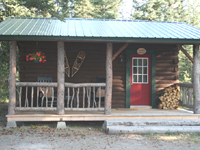 This homestead log cabin sits in a sunny clearing on the edge of the forest just off the trail of a Caribou Crossing. Keeping with the theme, an old dog sled reminds one of early travelers on these timber trails of the Northland.
Like our other cabins, Timber Trails has the same touches of rustic luxury: wood floor, braided rug, woodburning Jotul stove with cooking circle, and a queen size bed with down bedding.
In addition, this cabin has an extra bed (a twin) and a farm table with bench. The covered porch with twin rockers invites relaxation...a trail leads to the newly scribed log bathhouse nearby.
Bear Creek Bathhouse
The luxurious log bathhouse is just a short distance away. Newly built in 2007, this log building is constructed from naturally aged logs downed in an Alaskan forest fire 18 years ago.
All guests have bathhouse privileges with access to coin operated laundry.
Season: Open year round.
Rate: $95 per night based upon double occupancy. Add $10.00 for each additional person; includes continental breakfast.
Contact us for more information or to make a reservation.