Testimonials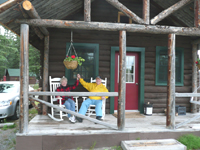 What folks are saying about Red Eagle Lodge...
"What a wonderful experience to come to Alaska again and then to stay in Grandma's Cabin! It is the coziest, best feeling place I've ever slept in. I will try to keep some of the beauty and peace of the place with me as I leave" - Diana S.
"We have thoroughly enjoyed this unique experience of camping at the Red Eagle Lodge! Grandma's Cabin is so special. The atmosphere and decor are perfect and we certainly want to make this an annual event! Thanks so much." - Scott and Carol B.
"Glenallen Information Center gave us your name. Talk about a wonderful place, Grandma's Cabin. The stories and history are fantastic. We are celebrating my daughter's 16th birthday today. What a great place to celebrate! Thank you." - Tobi A.
"I wanted to show my parents a real Alaska experience. I found it here. You have a very special thing here. Hope it stays like this always!" - Julie J.
"In all our travel in Alaska, Red Eagle was absolutely the Best Deal of our whole trip." - M. J.
Contact us for more information or to make a reservation.