Bear Creek Bathhouse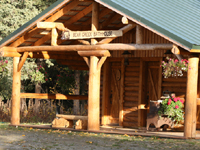 Newly built in 2007, this log building is constructed from naturally aged logs downed in an Alaskan forest fire 18 years ago. The logs were peeled and hand scribed to make an unusually beautiful camp bathhouse.
With its large over-hanging roof and deck, antique copper washer, rustic stalls and light fixtures, Bear Creek Bathhouse has been nominated for a feature article in a log building magazine.
Besides the separate sides for men and women (handicap friendly), this new bathhouse also has a coin operated laundry and solar panels for heating.
All guests have bathhouse privileges with access to coin operated laundry.
Amenities
• Coin-operated laundry
• Showers
Season: Open year round.
Contact us for more information or to make a reservation.