Hermit's Roost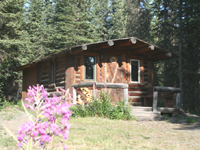 This historic cabin is named for the solitary hermit who traveled back and forth from the cabin to his mining claim in the mountains.
Hermit's Roost is off by itself on the edge of a sunny glade. It's a good choice for travelers seeking seclusion or for a small group of tent campers wanting access to their own kitchen and bath.
This authentic miner's cabin glows with quaint charm and rustic comfort. Electrified lantern lights reveal a burl based table, large braided rug, leather love seat, and rock faced corner with wood burning stove.
Like our other cabins, Hermit's Roost provides the luxury of down bedding and hand crafted quilts for the double and twin beds, plus a fully furnished tiny kitchen and bath.
Bear Creek Bathhouse
The luxurious log bathhouse is just a short distance away. Newly built in 2007, this log building is constructed from naturally aged logs downed in an Alaskan forest fire 18 years ago.
All guests have bathhouse privileges with access to coin operated laundry.
Season: Open year round.
Rate: $110 per night based upon double occupancy. Add $10.00 for each additional person; includes continental breakfast.
Contact us for more information or to make a reservation.