Groups Welcome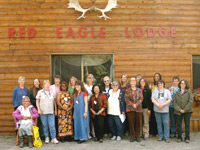 The grandeur and peace of the Copper River Valley; the authenticity of Chistochina's Roadhouse site with its restored historic cabins; plus the helpful attention to detail by hosts Richard and Judy Dennis; all combine to make your group event at Red Eagle Lodge special and unforgettable.
Our intimate great room decorated with Alaskana will seat up to 30. Warmed by a wood fire, the dining room beyond encourages one to linger at the conference table. Outside, a small deck, the sound of water and a grouping of picnic tables beckons...at day's end, gather with your friends on log benches to visit and roast marshmallows around the large campfire (If it's dark enough, you may see the Northern Lights!).
We have grassy camp sites for RV and tent campers available in either sunny clearings or the shady forest. Our six homestead log cabins, each with a different theme, feature deluxe beds with down bedding and will accommodate 2-4 individuals per cabin (Two cabins include their own kitchen and bath). We also offer a guest room inside the lodge.
There are many log swings, porches, rockers and adirondack chairs that invite relaxation; while bicycles and a bike path, volleyball, horse shoes and other games appeal to those who desire activity. Red Eagle Lodge offers free Internet access, a fax and printer, plus a library of books and DVDs for the use of our guests. Move viewing is available in the lodge. Nearby trails, rivers, glaciers, and the 16,000 ft. mountains of Wrangell St. Elias National Park call to adventurers of all kind from four wheelers and snow-machiners to rafters and flight-seers, to sportsmen and hikers, to photographers and...
Red Eagle Lodge is readily accessible year round via the Glenn and Richardson highways on the Tok cutoff. Small aircraft may land at the adjacent state-owned airstrip - CZO and taxi to the lodge.
Bear Creek Bathhouse
Bear Creek Bathhouse works great for groups with its large 30 x 50 ft. hand-scribed log building. Besides separate sides for men and women (handicap-friendly), this new bathhouse has a coin operated laundry and solar panels for heating.
Season: Open year round.
Contact us for more information or to make a reservation.