Fish Camp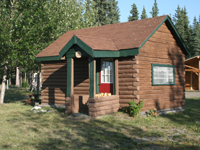 Appropriately named, this fish themed log cabin features fish carpeting, fish curtains, fish quilt, and an old fishing lure sign. The luxurious log bathhouse is just a few steps away.
Queen sized bed with down bedding, table and chairs, and wood-buring stove provide comfort with a log swing just outside the door.
Bear Creek Bathhouse
The luxurious log bathhouse is just a short distance away. Newly built in 2007, this log building is constructed from naturally aged logs downed in an Alaskan forest fire 18 years ago.
All guests have bathhouse privileges with access to coin operated laundry.
Season: Open year round.
Rate: $95 per night based upon double occupancy. Add $10.00 for each additional person; includes continental breakfast.
Contact us for more information or to make a reservation.