Cabin Fever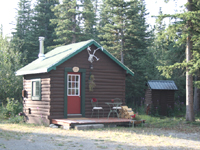 Cabin Fever is what we call our smallest historic cabin. Unlike the "cabin fever" with need to escape, which can occur after being cooped up over a long cold winter, this cabin draws one in with lively cheer.
Cabin Fever, like our other cabins , provides a queen size bed, down bedding, braided rug and wood burning stove. It also features a gambrel ceiling fan and charming deck, cafe table and chairs. With red sheets, red plaid accents, and a pin-up girls duvet cover, Cabin Fever wraps its guests in cozy comfort for a Northern Night.

Bear Creek Bathhouse
The luxurious log bathhouse is just a short distance away. Newly built in 2007, this log building is constructed from naturally aged logs downed in an Alaskan forest fire 18 years ago.
All guests have bathhouse privileges with access to coin operated laundry.
Season: Open year round.
Rate: $85 per night based upon double occupancy. Add $10.00 for each additional person; includes continental breakfast.
Contact us for more information or to make a reservation.