Grandma's Cabin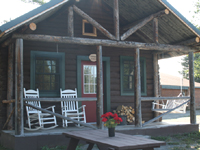 There has been more than one man in the history of the propery and lodge in Chistochina called Red. The first was one of the builders of the Roadhouse in the early 1900's.
Later, Red James became the owner and his family helped manage the Roadhouse lodge. Red's mother lived in the cabin that has now been known as "Grandma's Cabin" for many years.
Grandma's youngest son was born in the cabin. Many who knew her remember grandma sitting at the table doing needle and bead work. When she was 80, she traveled to Wisconsin to teach basket weaving. She died in Wisconsin at age 81.
The original cabin logs and deck are still in place. If you look closely, you can see traces of moss and burlap that were used for chinking long ago. The interior has been newly chinked and updated for today's traveler with wood flooring, braided rug, queen bed with down bedding, kitchen, bath, and wood buring stove.
There is also a futon that opens into a double bed. Adding to the living space, the covered porch has two rockers and a porch swing. Guests love this, our oldest, homestead cabin for its authenticty and charm.
Season: Open year round.
Rate: $110 per night based upon double occupancy. Add $10.00 for each additional person; includes continental breakfast.
Contact us for more information or to make a reservation.